PERSONAL USE of the DIGITAL FRAME
Number One Personal Use
I believe the number one personal use for digital frames is buying one or more to give as personalized gifts for the enjoyment of friends and family.
Number Two Use
Coming in at a close second is buying one or more for your OWN enjoyment!
My List
The following is a list of some suggestions which I have collected (and many of which I use) in my research of these versatile electronic products.
These include ways of using them in your home for your own pleasure as well as for gifts for different occasions.
This list may include ideas for the personal use of digital frames you may not have thought of before and it gives me yet another chance to share my passion with you!
Please contact me at any time if you have more ideas of ways to incorporate digital frames into your life for your personal use.
The Wireless Digital Frame For Those Who Serve in the Military and Their Loved Ones
When the heroic members of our military move far away from their families and loved ones in order to serve our country, they are certain to receive photos along with letters as mementos of life back "home".
But it can be very important when our service people and their families are stationed far away that they, too, are able to share their lives with their families back home. That is when a wireless digital frame can be that very important conduit for members of the military and their families and a very good example of a personal use for the digital frame.
Of course, simple plug and play digital frames or even multi-media ones can be used when Internet access is not available. This will involve sending pre-loaded memory cards back and forth in the mail. Though it takes so much extra time and patience, it is still a very effective way to keep everyone connected!
For Personal Motivation
Where do you want to be next year, in two years, five years or more?
A digital frame is a great way to keep your goals and ideals accessible for daily viewing!
Download some inspirational love quotes or poetry from Framebug.com....
Need more motivation?--Upload some photos of a favorite retirement site to a slideshow as a daily reminder of what to look forward to.
Add some calming music to the slideshow and get off to a great start every day with this very personal use of the digital frame!
To Solve the Problem of Which In-Law to Display In Your Home!
How many couples experience the politics of In-Laws when it comes to displaying photos in the home?
The problem is immediately resolved with rotating slideshows of all the family in one frame!
Now that is a personal use for a digital frame that can literally save a relationship!
For Those Friends and Family Who Do Not (Or Won't Have) Access to a Computer or the Internet
Although access to the Internet is growing at exponential rates daily, there are still many friends and family who are not quite up to speed!
These same people may use a digital camera. If so, they can simply insert the memory card from the camera into a frame for immediate viewing of their photos. (Make sure the photo frame can read the camera's memory card.)
Whether or not they have a computer or a digital camera, the digital photo frame, in its many shapes and forms can be uploaded for them and updated on a regular basis.
For information about digital frames that can connect via phone lines (toll-free), please see Ceiva Digital Frames and Ceiva Pro-80 and CeivaShare Digital Frame Reviews on this site.
This personal use for digital frames can keep everyone connected and in touch.
Clear Off the Fridge!
This is a great way to de-clutter your poor fridge!
Yes, there are also special magnetized refrigerator digital frames! These will work just as well on metal filing cabinets at home or at work!
Instead of filling the front of the fridge with all that wonderful artwork from your child, take photos of the artwork and display them in a frame!
My granddaughter always wants to check out what's new on Nana's refrigerator picture frame!
More than one youngster? That's great--each of their work will get equal time on the frame with no beginning and no end!

Voila! You've found another personal use for the digital frame. And -- you've de-cluttered your life a bit!
For the Elderly or Bed-Ridden
Why should those who are unable to attend family gatherings miss out on everything?
There is no more loving way to help remember the past (with scanned photos) and to keep current (with new digital photos of family happenings) than with a simple-to-use digital photo frame.
Viewing these images has also been proven to stimulate memory.
It can serve to bring the family close every day, even if visits are difficult to schedule on a regular basis.
For those with short-term memory and those with Alzheimer diagnoses, this is a wonderful way to connect.
Some digital frames can be programmed to play at certain intervals or times of day. That way, if the person is bed-ridden, there is no need to call for a nurse or family member, allowing the patient to enjoy the slideshow and the nursing staff or family member to attend to other patients or tasks.
Some hold thousands of images, all of which can be easily removed or replaced as circumstances dictate.
This personal use of the digital frame makes it easier to keep in touch with anyone, even if they are not capable of using the controls.
For the Baby
A digital frame can be a thoughtful and loving gift for the baby, as well as the new parents!
A display with sound and photos of Mom Dad, Grandparents, other siblings, pets (and even some lullabies) can make a wonderful and unique new baby shower gift!
The frame can be also be used as a soft night light to soothe the baby.
Frames also come embedded in stuffed animals, another personal use for a digital frame which makes an excellent baby (or toddler) gift!



How About a Personalized New Baby Digital Picture Frame?
New Baby Personalized Digital Picture Frame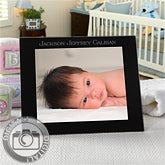 For a Graduation or as a Birthday Gift for a Child
Give a frame that tells a story, possibly with a musical slideshow, such as your child from birth to current age.
What a unique and treasured gift!
As an added note, frames also come embedded in items such as soccer balls, footballs, baseballs, etc.
Since a good portion of his weeknights as well as weekends involve him in the game, I gave the soccer ball digital picture frame to my grandson for Christmas. It is a different and very practical gift he will have for years.
For an Anniversary or As a Valentine's Day Gift
How about a musical slideshow consisting of a couple from their first date to the current time. Or perhaps a series of photos of loving times shared together.
A personal use for the digital frame that makes a perfect gift!
Do You Have a Friend Who Collects Christmas Ornaments?
Whether the answer is yes or no, a digital Christmas ornament is an ideal gift to give at Christmas time.
Update them each year. Or give each family member their own ornament.
The gift of a Christmas ornament is an inexpensive, yet thoughtful, personal use of the digital frame.
As a Wedding Gift
Take pictures at the celebration and load them into a frame for a treasured gift for the happy couple.
I did this for a friend's brother's wedding. It was a beautiful dockside ceremony on a beautiful lake on a beautiful day, but the photographer never showed up! All they had were photos on a disposable camera!
After the pictures were printed, I scanned them into my computer, then put them onto a memory card.
My friend put the card into a new digital frame and presented it with pride to her brother and his new wife!
The gift was appreciated so much by the whole family and even elicited tears from the groom's usually stoic father! Another example of a heartfelt personal use of a digital frame!
Take to Friends' Homes, Parties, etc.
Digital photo frames are usually small enough to be portable and as such, their contents can be seen not only by one's relatives and friends, but anywhere they go such as to meetings, clubs, friends' homes, etc.
Most are so simple to operate. All that is required is to plug the frame into a power outlet (though many can be run on batteries).
Simply insert the digital camera's memory card and, if the frame allows, choose the photos for the display. In the majority of digital frame models, the slideshow display will begin as soon as it is turned on. Some have built-in memory to store photos right in the frame.
Digital frames are dynamic and so much more interesting and entertaining than the old "Gramma's Photo Brag Book"!
Look for a pocketbook-sized frame with a case and carry it with you all the time! They also come in wallet sizes. And don't forget to look for one that also plays videos!
Do You Know Someone Who Collects Material for a Scrapbook in Boxes?
How about a gift which helps the giver as well as the receiver?
During a visit, my son brought up his trunk from the basement, full of paperwork and souvenirs from his childhood. For his birthday that year, I scanned everything onto a memory card and put it into a medium-sized digital frame that he can display for all his friends in his own home in Atlanta.
For those items that could not be directly scanned, I took digital photos of them and then scanned them into my computer and onto the memory card.
And guess what?....He had the perfect gift and I got rid of that smelly old trunk! A much-appreciated use of a digital frame.
For additional information check out Digital Scrapbooking Storage Media, a website that provides information on digital media used to store the memories in your digital scrapbook so that these memories can last and be enjoyed in the future.
Put on a Theme Party to Share Your Latest Vacation With Your Friends and Family!
Have you just returned from a week in Napa Valley on a wine-tasting tour? Put on a wine-tasting party for your family or friends with food to match the wine.
All the while, the pictures of your vacation are being beautifully displayed in a rotating slideshow on your digital frame.
What about your latest trip to a far-off beach?
Your friends and family are sure to appreciate a digital frame presentation much more than being trapped into watching endless "home movies!"
As a Wall Decoration
Don't overlook the possibility of using a digital frame simply as a frame--a frame for any picture you want to hang on a wall!
The actual frames for these products can be found in so many different colors, shapes, forms and materials. There is sure to be some that would satisfy any decorator's taste.
Additionally, there are many sites on the internet where breathtaking pictures of landscapes, buildings, animals, etc. can be downloaded free of charge or for a nominal fee.
One of these, which I personally love, can be found by clicking here... This website specializes in professionally done architectural and landscape photos as well as other subjects. Through a special arrangement with the web owner, you can choose pictures from that site and I will download them to an SD card for you at an affordable price. Just contact me after choosing the photos you want.
Don't want a rotating slideshow? Just set the show on manual and change your pictures whenever the urge strikes! Additionally, many frames can be set to transition from one picture to another over long periods of time, such as 24 hours.
Don't worry about the hanging cord if it is distracting. It is a relatively simple job for a handy person to run the cord down through the back of the wallboard to come out just at the electrical outlet on the front of wallboard.
Turn off the TV and Extend the Fun of Family Outings On a Digital Frame!
We had so many young children growing up at the same time in our household and both my husband and I worked so many hours that family outings were few and far between. I have to admit that the TV was a very important part of my children's early lives.
At those special times when we did all get out and explore our world, I made sure to take plenty of pictures. How we treasure those snapshots now!
Now that I am a grandmother, I have given cameras to my grandchildren and I encourage them to take lots of pictures during a day at the park or at the zoo, a hike or at the pool.
Then we extend the fun by having everyone be involved in the production end of transferring those photos onto a constantly changing digital photo frame! Then we sit back together and enjoy the good times, over and over again! This is such a wonderful and educational personal use for the digital frame.
Your children or grandchildren may even want to take the frame to school for "Show and Tell" to proudly share their "production" with their classmates and teachers!
On a Tabletop with Other Non-Digital Frames
It's fun to put a digital photo frame right in a setting with other non-digital frames on the top of a table. It's definitely a show stopper and a very whimsical way to display a digital frame!
As a Slide Presentation for Use at Reunions, in Schools, etc.
The possibilities in this category are multi-fold.
How about "a walk down memory lane," a slideshow with photos from past years' reunions, rotating in a large frame?
An art or science teacher could present the "year in review" for art or science projects as an end of year program. What better way to help your child to feel enthusiastic about art or science when your child sees his or her accomplishments out there for all to admire.
A perfect personal use of a digital frame is any time there is a chance to display photos highlighting the passages in a person's life!
Last on my list, but certainly not least, is the digital keychain.
This makes a very impressive gift for just about anyone or any special occasion.
These represent a personal use of the digital frame which is very budget-friendly.
These products usually have easy to use options and display images very well. They come in the coolest colors, too!
---
I hope the above suggestions got you thinking about how you can incorporate digital frames for your own personal use in your home and in your life just as I have!
More Ideas?
Please contact me and let me know!
10 Unique Ways to Utilize Multi-Media Digital Frames
While browsing question and answer forums on the Internet, I came across some very unique ideas for the personal use of both simple plug and play digital frames and multi-media ones (those that have music and video as well as photo display capabilities).
1. One user, recovering from surgery, had taken photos of the insides of the cupboards, closets and drawers in her home. This very clever personal use of a digital frame allowed house guests to see where things were stored and where they were supposed to be returned; all without disturbing her as she went through her recovery.
2. Someone suggested putting pages from a comic book on a digital frame. Just scan and then save as JPGs for an interesting and unique slideshow. You could easily add music or record voices and play them along with the slideshow.
3. Using an ordinary frame as a recipe book is also a good idea. Download favorite recipes and add instruction text and videos. What a great personalized gift for a newlywed's personal use!
4. Load trivia and facts to a digital frame and use it as a memory tool. Text and voiceovers can make memorizing information a snap! This could work really well for learning languages.
5. Use a small desktop frame for phone numbers and addresses you frequently need to look up.
6. Download screen shots or trailers from movies you really like. Of course, you can download any of your favorite YouTube videos.
7. This personal use idea is a space and timesaver—Scan all your instruction manuals and then throw the paper ones away!
8. Upload videos of a coral reef or deep sea exploration and use the frame as a virtual aquarium.
9. An interesting thought: Have one slide say "Breathe In" and the next "Breathe-Out" and set the rotation interval to 3 seconds.
10. This is one I found interesting but maybe not something I would take advantage of for my own personal use…Take 2 photos, one of yourself or someone else doing something simple such as sitting in a chair and reading a book. Then take 1 photo of that person looking over the book peering out at whoever is looking at the frame. Make about 20 copies of the first and put the 1 photo of the second in with the 20. Set up the slideshow to display pictures randomly. The image rotation will only occasionally show the person looking out and over the book. Sounds like fun but perhaps a bit eerie?
Hospice Worker Uses Digital Frames to Bring Historic Paintings to Patients
A Dallas, Texas hospice worker, Mark Lombard, has initiated the "For Love and Art Project." This project uses 8" digital frame notebooks from Digital Foci to bring historic museum paintings to elderly hospice patients with limited mobility. Without this interaction, these patients will never get a chance to see these masterpieces again.
This innovative idea for the use of digital frames has taken off in a big and unexpected way. In just 3 months, Lombard gained the trust of prestigious museums such as the National Gallery of Art in Washington, D.C., the Metropolitan Museum of Art in NYC, and L.A.'s Getty Museum. Each of the first digital notebooks was pre-loaded with nearly 1,000 paintings from these museums.
The impact of these frames is that it allows the patients to feel joy, to get out of themselves and their dire circumstances and even to feel young again. More than 12 hospices started using the frames with many more frames ready to ship to other hospices.
Before Lombard got the idea to go digital, he used paper reproductions of the masterpieces which were then collected into a scrapbook. Then he heard that the Amon Carter Museum of American Art (ACMAAA) in Fort Worth, Texas had received positive reactions to the use of digital albums to aid in tours of their galleries. With this information, Lombard proceeded to remake the "For Love and Art Project" in digital form.
Lombard is working to convince other museums in the nation as well as foreign museums such as the Louvre in Paris, the Hermitage in St. Petersburg, Russia and the Tate Modern Museum in London to donate their masterpieces to the project.
This is an example of a deeply personal and moving use of digital frames.
---
Top of Personal Uses for Digital Frames
Back to Uses for Digital Frames
---
COMMERCIAL USES for DIGITAL FRAMES

A NOTE ABOUT SAFETY USAGE